Can we ask for your help?
We are incredibly proud to once again have been shortlisted for the Sunday Times British Homes Awards. To win – we need votes!
What is the Sunday Times British Homes Awards?
The annual award recognises the talent, effort and innovation of architects, designers, housebuilders, affordable housing providers and developers working across the residential property sector today.
Somorjay and Talliss' submission for Babylon House has been shortlisted for the award for a 'green and pleasant' home that could be a blueprint for our new garden cities.
Vote for our entry here
(select Babylon House)
About our entry
With planted wavy roofs, a Babylon House development looks like "a series of green ripples" that blends into the "green and pleasant" hills of the British countryside. Here at Somorjay & Talliss we have adapted Sir Ebenezer Howard's idea of a green "town-country" to tackle our 21st-century shortage of housing land.
To make them unobtrusive in sensitive sites, each home is partly buried underground. Naturally insulated by the earth, it has three bedrooms that open to a sunken courtyard on the lower ground floor — essentially, it's an "eco-concrete box", with recycled blast-furnace products accounting for almost 70% of the cement mix. The open-plan living space on the raised ground floor is made from prefabricated timber and surrounded by garden.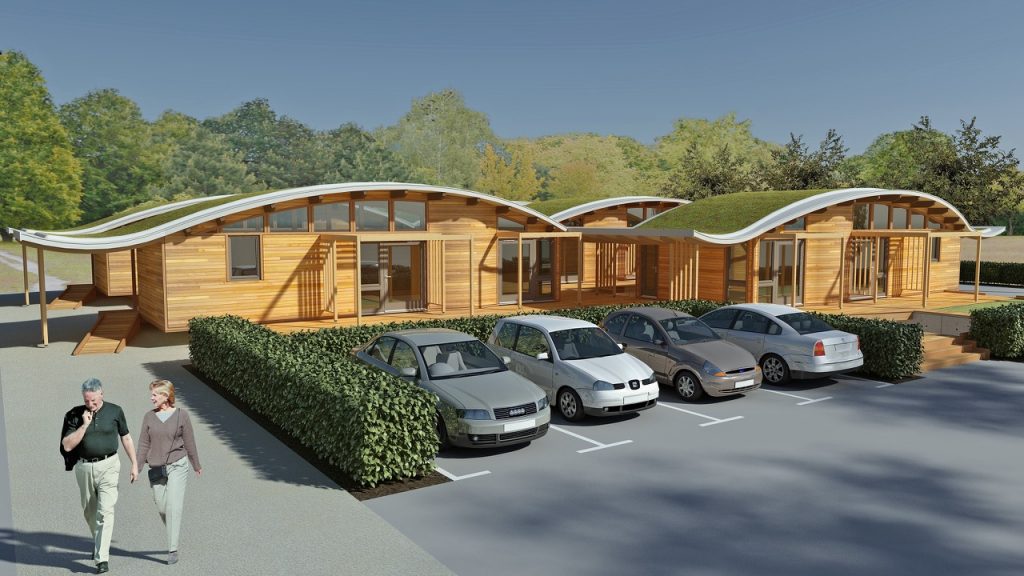 Covered walkways with shallow U-shaped roofs — which double as conduits for rainwater runoff to storage tanks — link the front door to the car park at the edge of the site. Excavated soil is sculpted into embankments around the whole scheme to screen it from view and noise.
Key selling point: 'Nimbys' couldn't possibly object to these hanging gardens!
Here is the original design concept sketch we created:
To vote
Click here to place your vote
(select Babylon House)
Each vote is entered into a Sunday Times prize draw for a chance to win an Amazon Echo or DIY vouchers of your choice. The reader's choice winner will be announced at the Sunday Times British Homes Awards ceremony on September 21.
Thanks in advance!
Stephen, Luigi & Clio
PS: Your support is hugely appreciated.